Can you believe its that time again. Well this lil one has not made her appearance yet. Someone please tell her that she is supposed to get out at 40 weeks. Although this year we have been blessed in our CC group to have another mom join us (she's a teacher, yea!!) who's daughter will be in the class that I normally tutor. So she will be starting off this year while I try to figure out how to get this baby out and how to navigate life with 3 lil ones. By the way did I mention that my husband has to leave again right after this one is born. The Navy is being nice and letting hom stay with me a lil longer till after princess 3 is born then he will be whisked off. Yep its trial by fire for all this year. Not sure who is getting the better end of the deal me or the new mom that has agreed to take my class till I can.
Anyway I am going to continue to post my break down of what I intend to do for each subject each week. Even if I am not the tutor I still have to plan for my 2 princesses here at home, so here goes.
First is Geography, and guess what my favorite Utube mom is back and she has started this year off with a bang. She has come up with a song for weeks 1-3. Yea!!
Here is the link https://www.youtube.com/watch?v=2iKxlmevnzQ
Math: Since my oldest princess is continuing with times tables I found this worksheet sight that has a new twist(yes pun intended) on skip counting.
But for my lil princess at home I will just use the skip counting maze.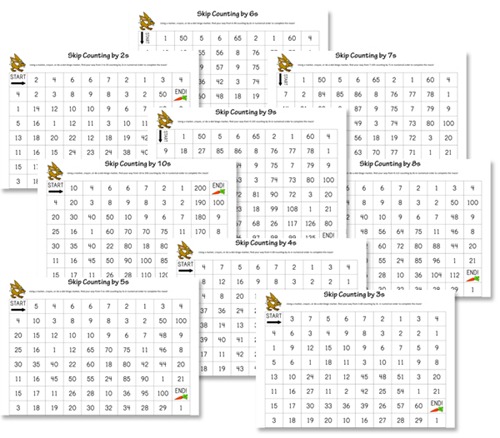 Grammar: My girls love to sing and especially try to rap, and I do mean try. So this is more than likely how I will tackle this one.
Science: I will be using hand motions along with showing my girls this video https://www.youtube.com/watch?v=hzWMAbTYNbg&list=PL166B7E06026603DB&feature=plcp&context=C3d135a6FDOEgsToPDskJaAkYdCqSf14klu7VX36http://www.youtube.com/watch?feature=player_detailpage&v=K8iIjAg7K9w&list=PL166B7E06026603DBJ7
It is a adorably cute video that will have both my girls in awe, and more than likely wanting to make their own video, sigh. Yes I can see the future.
Well hopefully this lil one will make an appearance soon so I can get back to normal. I cant wait to meet her. Its so hard for me to sit and just wait, but I refuse to have a c section so here I am.
Till next week.